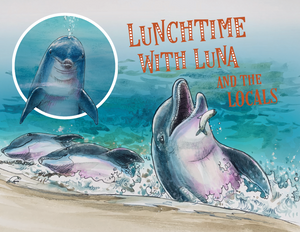 Lunchtime With Luna And The Locals
The original educational story book that started it all!   Lunchtime with Luna describes a young dolphin's journey to learn the critical skills needed to become an effective Lowcountry Strand Feeding dolphin along the shores of Seabrook Island and Kiawah Island, South Carolina. If you are a Seabrook / Kiawah local and have ever heard of KoKo and Kai, this book is loosely based around Kai's childhood. 
This is an enjoyable children's book (target ages 5 - 12), but interwoven with Dolphin Data and interesting scientific facts about these amazing animals.  Perfect for kids, parents and grandparents alike!
1/3 of the net proceeds of each purchase go to support the conservation efforts of the Lowcountry Marine Mammal Network, to help protect these local dolphins.
Concept: Kim Davis
Story: Jeff Davis
Illustrations: Greg Bryla @brylastyle
Fully offset printed in the USA, 8.5" x 11" soft cover bound on 80# stock.  50 pages, full color illustrations on every page. 
(If you are a brick and mortar book store who is interested in carrying this book, please contact us via email.)